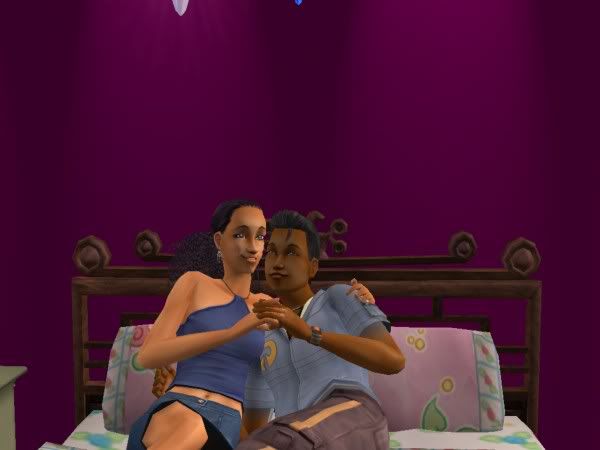 Sapphire settled back into her pillows and prepared for woohoo number 9 with Leonid.
Fellow Romance Sim Gunnar appreciates some casual woohoo too.
Sapphire gets some nice aspiration points for Woohooing with 10 different Sims.
Sindy finds someone that her sister has missed and has her first kiss with Abhijeet
and more....
No-one escapes the resident coach.
The YA's try to escape her by cancelling her out, but she just comes screaming back at them.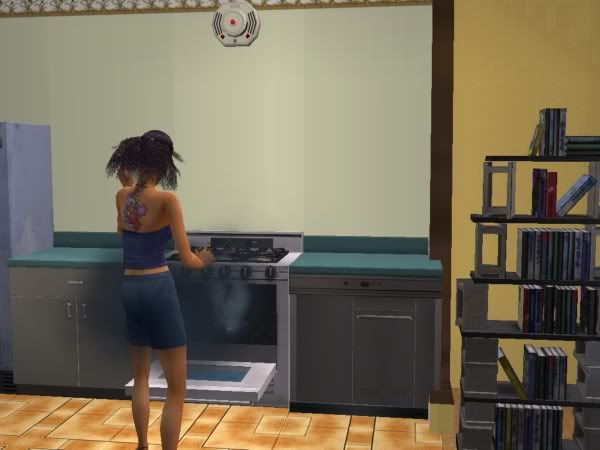 So Sapphire can't cook,
well you can't be good at everything...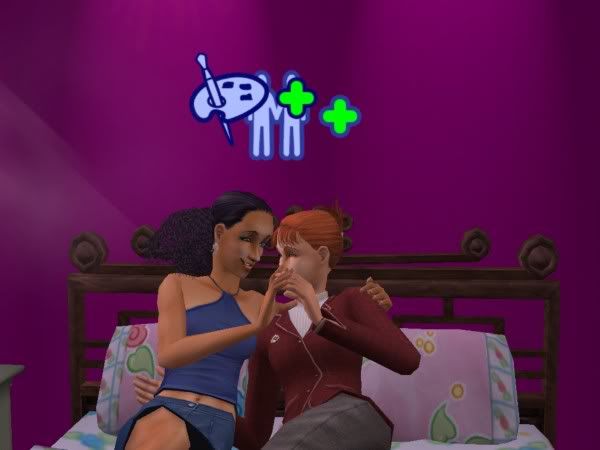 Sapphire finds Prof Jan to be a suitable woohoo number 11
and Jasmine number 12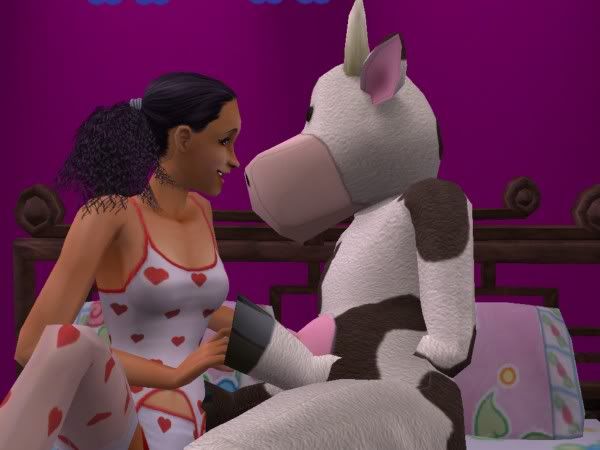 Avri the Cow Mascot is lucky 13!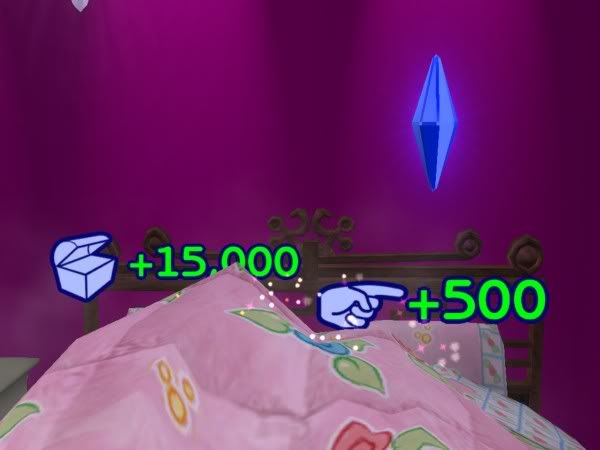 Sapphire got a 'woohoo with 5 service Sims' want fulfilled here.
I guess any NPC is considered a Service Sim.
For Sapphire that's 2 Llamas, 2 Professors and a Cow.
I'm sure there's a joke in there, but it eludes me for the moment.
Avri gets moving as Sapphire makes way for the next 'guest'.
Friend and downtownie Meadow is number 14
Cheerleader Shenene cannot escape Sapphire's charms. She's number 15.
As Sapphire returns from a night on the town where she found some new friends and had one date she arrives to find sister Sindy being taken away by the Secret Society.
ooh gifts!
Sterling, who Sapphire had a dream date with downtown arrives at the same time as Shenene to drop some goodies off.
Sterling leaves a hot tub, and Shenene a classy vase.
The next night Avri pops round with his gift,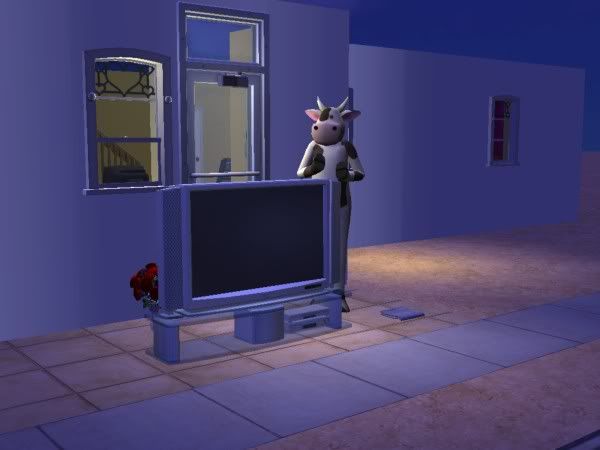 A state of the art TV.
These people know what makes a Romance sim tick!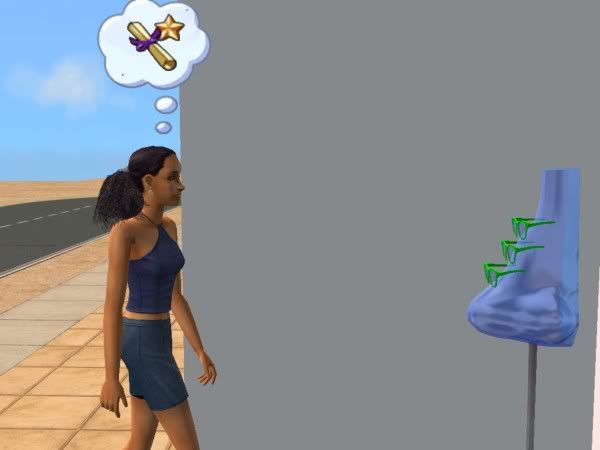 Sapphire graduated with a 4.0 GPA (shocking but true) and an Art degree.
She has 72 hours before she leaves campus, and 5 more Sims to find and Woohoo!
Good job she has lots of aspiration points
we're smart-glassing it all the way from here.
Another fellow Romance Sim, Gilbert happily becomes number 16.
He was so impressed with his dream date that he brought a gift.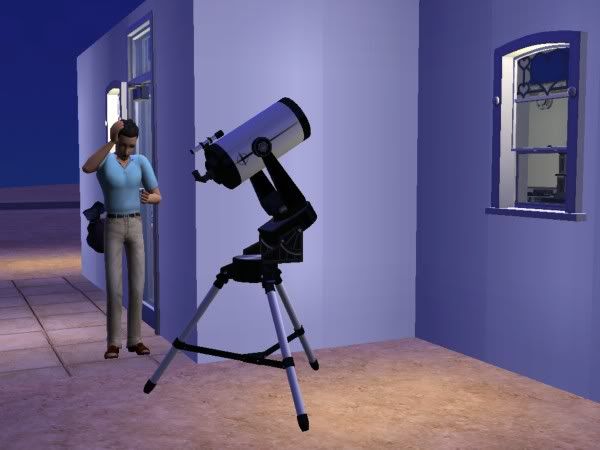 hmmm.. not really 'Romancy', but it'll be fun to spy on her future neighbours.
Gilbert brought a friend the first time he visited Sapphire, and Sapphire was quick to befriend this happy chap- he's Daniel and number 17 on Sapphire's list.
Sapphire's 2nd date with Sterling ended in Woohoo, making him number 18.
Simon Phillipine, a work buddy of Sapphire's dad Sheldon, was number 19.
Funny how he wore work clothes on the date, but normal clothing to drop off this super cool gift for Sapphire.
Sapphire saves the best for last and local Mr Big, Amar, becomes Sapphire's dream number 20.
and Sapphire still has 42 hours to spare before she has to leave college!
While we got the pop up that Sapphire had achieved Perma Plat, she never got a memory marker for it.
Maybe it fell under the bed.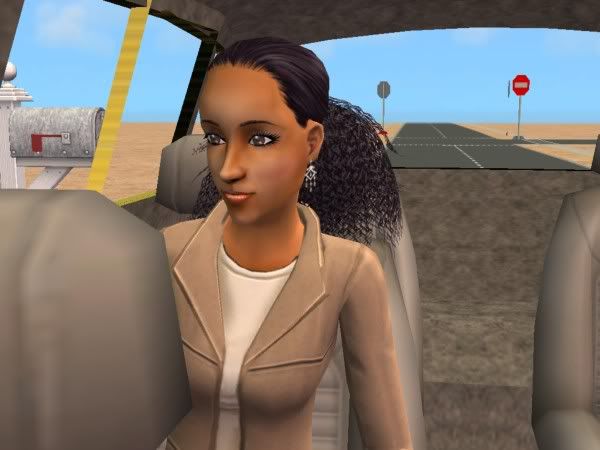 Sapphire leaves college and can be very satisfied with the work she's done here.
(LOL)
but another 'Maxis- what were you thinking?'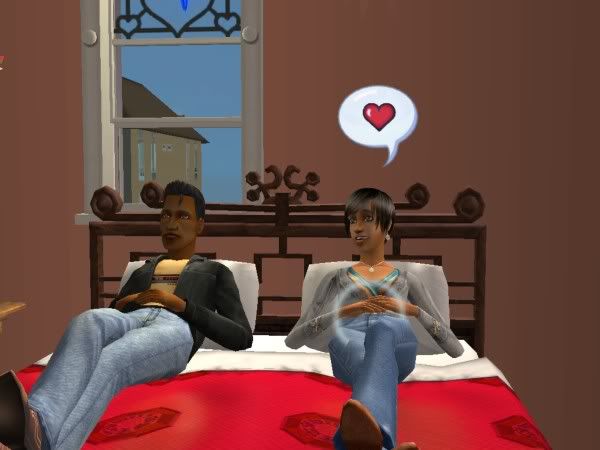 Sindy takes a leaf out of her sister's book and spent her last semester having dates.
But with the same guy... :)
She got some nice gifts too and lots of bouquets.
What a fun way to pass the college hours.
All too soon it was time for Sindy to go home.
She graduated with a 4.0 in Physics.
Both girls arrived home on Saturday of week 12.
Sindy found a job in Paranormal straight away but doesn't start until Sunday.
We had her get into Platinum and then meditate.
She lifts Paranormal with Ease in the early hours of Sunday morning.
Sapphire found the Artist career on Sunday, and starts Monday.
She never moved out of Platinum, so we assume her missing the memory was a glitch.
She meditates to pass the time.
While Sindy works on finishing her Mechanical skill, Sheldon maxes out Creativity.
On Monday- beginning of week 13.
Sapphire became a Visionary and lifted the final restriction.
The pianos, guitars, drum sets etc would have been very handy early on!
To round the day off Sadie completes her 2nd LTW by becoming Chief of Staff.
What a day... what a life,
What a Family.
Week 13- 91 days total.
14 Sims.
2 sets of Twins.
All 16 Restrictions lifted.
36 friends currently.
bank account of 534,234 simoleons.
I think we're ready for Pets!
I hope you enjoyed reading about the Spacy's as much as I enjoyed playing them.
I'm going to put together another, much smaller blog with their pics, restrictions lifted and some random facts about this challenge.
coming soon!